Tag: jeff baldwin
by admin on Oct.28, 2012, under This Weeks Show
October 28, 2012 — JOSH KERR TALKS SURF WITH – SCOTT BASS SURFER, JEFF BALDWIN SURFER
SEGMENT 1: Segment Sponsor Quiksilver Waterman Collection is presenting next years' Surfing Heritage Vintage Surf Auction presented by Quiksilver Waterman Collection which takes place May 11, 2013 in the brand new state-of-the-art building at the OC Fairgrounds called The HANGAR. Quiksilver Waterman Collection and their brand ambassadors on twitter Mark Healey @healeysurf, Shayne McIntyre @ShayneMcIntyre, Jamie Mitchell, Peter Mel @peter_mel, Mel Pu'u: Robby Naish
LISTEN TO PAST SHOWS IN ARCHIVE CLICK HERE
OR
SEARCH iTunes PODCASTS – KEYWORD: DOWN THE LINE RADIO
BASSY)
1) YOU SIT RANKED #10 IN THE WORLD WITH TWO EVENTS REMAINING…how would your rate your 2012 season thus far? Are you satisfied?
2) Your score line through this year is solid…although, you have two 13th place finishes and a 25th, do you ever look back on those events and think about how you may have done things differently?
BALDY)
3) Santa Cruz is coming up this week, if ever there was a spot for upsets it is Steamer Lane…a tricky lineup; are you familiar with Steamer Lane? Have you surfed there?
4) Jason "RatBoy" Collins is a dangerous wildcard, do you think the wildcards worry the top ranked surfers or are they just another competitor?
BASSY)
5) Is there a particular surfer on tour that you enjoy going up against in a heat?
6) Gabriel Medina seems to have a bit of a cocky disposition, not a bad thing for a competitor, but do you know him well, is he aloof or do you find him to be pretty cool guy?
BALDY)
7) When you draw an aerialist such as Gabe or Julian Wilson, does it change they way you approach a heat? As opposed to say a surfer such as say Adam Melling or Taylor Knox?

What is your pre-heat routine like? Do you go through a regular routine for each heat?
BASSY)
9) Surfer magazine's Shea Lopez left you off his Fantasy Surfer team, does that kind of thing motivate or inspire you?
10) What does inspire you? How do you motivate for heats?
BALDY)
11) The NEW DEAL for the ASP Tour, what is the overall vibe amongst tour surfers?
12) Who do you think would make a good ASP commissioner?
The SURFER POLL is coming up, we want YOU — OUR LISTENERS — TO GO TO SURFERMAG.COM AND VOTE FOR JOSH KERR! DO IT NOW!! WE ONLY HAVE A FEW DAYS LEFT!!
TOP 5 STORIES:
#1 STORM: Hurricane Sandy is moving to north of the Bahamas, as the western fringe brushes Florida with high surf and gusty winds. It will continue along the coast of the Carolinas this weekend. All signs point to an extraordinary combination of meteorological ingredients coming together to produce a historic storm in the N.E. states with the peak being Monday night and Tuesday. No matter what the official designation – hurricane, tropical storm, or 'post-tropical' – Sandy should be taken seriously.
#2 WILDCARD AND TRAILISTS FOR COLD WATER CLASSIC Santa Cruz County surfer Jason "Ratboy" Collins was has been granted one of two wild-card slots into the O'Neill Coldwater Classic. The second wild card will go to the surfer who wins the Local Trials, scheduled for 8 a.m. next Wednesday at Steamer Lane. A dozen surfers, not all from Santa Cruz, will vie for that other wildcard. The Trials invitees include 2008 Coldwater Classic winner Nat Young, who is on the verge of making the World Tour cut, and 2002 winner Adam Replogle.
#3 GREAT WHITE SHARK KILLS SURFER — AGAIN. On Tuesday October 23, 2012 Francisco Javier Solorio, Jr., 39, was surfing with a companion near Surf Beach located at Vandenberg Air Force Base, Lompoc, California. It was 11:50 AM and they were sitting upright on their surfboards about 100 yards from shore waiting for the next set. His companion had been speaking with Solorio and turned to look toward the beach. While looking forward, out of his periphery, he saw a large shark come up out of the water, pulling Solorio off his board, dragging him underwater.
The companion started moving toward his friend when Solorio suddenly emerged and grabbed his board with both hands. He asked for help and lapsed into unconsciousness. His companion pulled him to shore and one of two surfers in the parking lot called 911. Paramedics attempted to administer CPR but were unsuccessful. The victim was pronounced dead at the scene. Solorio sustained a massive bite to his left mid-torso, extending down to the upper left thigh.
The bottom of his board was struck by the shark's lower jaw, leaving identifiable tooth impressions. 'Interspace measurements' of the tooth impressions in the surfboard and victim are consistent with the dental pattern of a Great White Shark 15 – 16 feet in length. Officials closed the beaches in the area for 72 hours.
The publication "Shark Attacks of the Twentieth Century" authenticated 108 unprovoked shark attacks from the Pacific Coast between 1900 and 1999. The Great White Shark, Carcharodon carcharias, was implicated in 94 (87%) of the 108 confirmed attacks with an annual average from 1950 – 1999 of slightly more than 2 shark attacks per year. There have been 71 unprovoked shark attacks confirmed since 2000, which includes 5 fatalities and 7 incidents year-to-date for 2012. This is three times the Twentieth Century annual average of 2 attacks per year.
The Great White Shark was either positively identified or highly suspect in 62 (87%) of the 71 attacks, with 34 (48%) of the 71 occurring during the three month period August (10), September (9), and October (15). There have been 179 authenticated unprovoked shark attacks reported from the Pacific Coast of North America from 1900 to October 24, 2012. The Great White Shark was positively identified or highly suspect in 156 (87%) of the 179 cases. There were 8 fatal shark attacks confirmed during the 20th Century with 5 fatal attacks reported from 2000 to 2011. The 13 fatal attacks represent 7% of the 179 total cases.
Victim activity for the 71 shark attacks reported since 2000 are distributed in the following ocean user groups; surfers 48 (68%) of the documented attacks, with 5 swimmers (8%), 7 kayakers (10%), 4 divers (6%), 4 paddle boarders (6%), 1 windsurfer (1%), and 1 boogie boarder (1%).
#4 Portugal offers FREE holidays for disappointed surfers — Until December surfers who visit Portugal and don't find good waves can return for free, courtesy of the Portuguese tourism board. Riding on the popularity of the Rip Curl Pro tournament, which ended last Friday and attracted thousands of people to Peniche, Turismo de Portugal has said it will offer free return trips to tourists who, "for whatever mysterious reason" don't find suitable waves on Portuguese beaches
The offer is open to any tourist who visits Portugal to surf but fails to find waves measuring more than half a metre for three consecutive days, on any of the 28 pre-selected beaches. Applicants must have stayed at least four days in this country and the lack of decent waves has to be documented, with either photos or videos.
Anyone who can prove they didn't catch a 50-centimetre wave for three days running will be offered a free flight back to Portugal and have their accommodation paid in the same hotel where they stayed first time round (up to a limit of €750.) The prize is limited to the first 20 applicants who fulfil all criteria, until December.
Details of the 'Our deal: no waves, come back for free' campaign are available on the 'Riding the Portuguese Waves' website (www.portuguese waves.com), which also includes more information on the Portuguese surf scene, such as best spots, recommended hotels, etc.
IN OTHER SHARK ATTACK NEWS: SUNDAY OCT. 28, 2012 — The beaches surrounding Makena Landing Beach Park were closed off Saturday afternoon following a shark attack on a 51-year-old woman from California.
The victim was approximately 20 yards offshore when she was attacked by a shark estimated to be between 10 and 12 feet long, said Fire Services Chief Lee Mainaga.
#5 TSUNAMI WARNING DOWNGRADED TO ADVISORY: The first of what could be several waves generated by a 7.7 magnitude earthquake off the coast of western Canada have arrived in Hawaii, with officials saying the highest waves so far are about 5 feet and no damage has been reported.
Hawaii Governor Neil Abercrombie says a tsunami warning that spurred coastal evacuations statewide is being downgraded to a tsunami advisory, but beaches and harbors will remain closed.
Abercrombie says Hawaii was lucky to avoid more severe surges after the powerful earthquake. Gerard Fryer of the Pacific Tsunami Warning Center told The Associated Press Saturday night the first waves hitting shore are smaller than expected.
Read more: http://www.foxnews.com/us/2012/10/28/tsunami-warning-issued-for-hawaii-after-canadian-quake/#ixzz2AbO9aSrD
2 Comments
:ASP, chasing mavericks, jeff baldwin, JOSH KERR, SANTA CRUZ, scott bass, STEAMER LANE, SURFER POLL AWARDS, WORLD TOUR OF SURFING
more...
by admin on Aug.12, 2012, under This Weeks Show
Surfing News – August 12, 2012: Tim Bessell- Master Shaper from La Jolla, California joins us in-studio.
SEGMENT 1 SPONSOR —
–
HONORING MARK RICHARDS IN THE ICONS OF FOAM SHAPING TRIBUTE PRESENTED BY US BLANKS
October 6 & 7, 2012
Del Mar Fairgrounds Exhibition Hall
Open to the Public
Food, Music, Fun
Exhibits, Shaping, Events, Art
$10; U12 FREE
Free sub to SURFER Magazine for each paid entrant
Surfboard Demo morning at 15th Street in Del Mar Sunday Oct 7
EVENTS AND EXHIBITS INCLUDE:
QNA SHAPING BAY
BEST OF SHOW
VINTAGE SWAP SHOWDOWN
CINEMA GROTTO SHORT FILMS FEST
SURFAID BOARD ART BENEFIT
ARTIZEN LIVE PERFORMANCE ART
ECO-SWIRL LAMINATING
GUN CLUB LOUNGE
MUSIC BY SURFERS FOR SURFERS
Autograph & Book Signings
Surf Report:
Emails, Tweets, Shout Outs:
"I disagree with the listener email last week from Jay (in Carlsbad), that basically called out the surfing and conditions at the US Open. They've had really bad days at PipeMasters, when they didn't even run the contest at Pipe! Sometimes Mother Ocean does not provide, but more often than not she does. Plus, the final day's action was red hot and very exciting." - Lisa H. Fan of HB Pier and the US Open from Torrance. California.
SEGMENT 2: Segment Sponsor Quiksilver Waterman Collection is presenting next years' Surfing Heritage Vintage Surf Auction presented by Quiksilver Waterman Collection which takes place May 11, 2013 in the brand new state-of-the-art building at the OC Fairgrounds called The HANGAR. Quiksilver Waterman Collection and their brand ambassadors on twitter Mark Healey @healeysurf , Shayne McIntyre @ShayneMcIntyre, Jamie Mitchell, Peter Mel @peter_mel, Mel Pu'u: Robby Naish

Lacanau Summer from loyal listener Renz in Europe
Tim Bessell – re-knowned local La Jolla shaper Bessell surfboards
Tim it might be good to go back a bit, Jeff and I grew up in San Diego, so we know all about you...but many of our international listeners don't know your connection to San Diego so let's start there..
Where were you born, raised?
What did your parents do, what was family life like?
When did you become enamored with this thing called surfing?
Do you remember your first surfboard?
As a young surfer who were your influences?
Shaping bug? How did you get involved with shaping surfboards?
What were your early experiences with the planer and foam? Garage stuff?
Sunset Surfboards days...
Regarding early shaping life, who really went out of their way to show you the ropes, or give you tips?
Who did you see go through those doors at Ed Wright's Sunset Surfboards, they had a big influence?
Al Merrick, Ken Bradshaw, Willis Brothers, Ned McMahon, Bill Shrosbree,
In the early 80s you really had a stable of red hot local La Jolla kids including Peter King.
The Artist Series -- tell us how this concept came about?
How did the Clark foam closure in 2005 effect on your business?
I'm of the opinion that cheap entry level, price point boards are good for the local surfboard industry, do you agree with this?
Can a surfer walk into the Bessell shop, and... like going into a Mercedes dealer, choose from a either 300 series, a 500 series or a bells and whistles 700 series?
The Sustainable surfboard... when will an eps, linseed oil resin, bamboo weave be the only board available to surfers?
...it seems we've been hearing about it for years, a day when all boards will be environ-senstive, that they won't eventually find their way into the landfill. Or, if they do, they bio-grade.
Yet, the PU surfboard still dominates the market place. Is it the paying customers that are driving these market conditions or is it the surfboard manufacturers, the industry, that is too stubborn or lazy to change?
–
HONORING MARK RICHARDS IN THE ICONS OF FOAM SHAPING TRIBUTE PRESENTED BY US BLANKS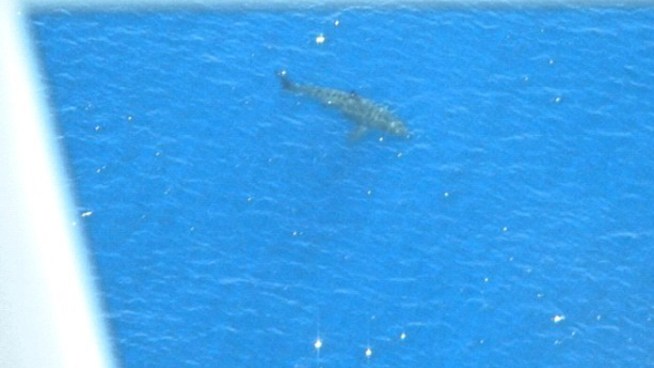 TOP 5 Stories:
#1 Catch Baldy – demo morning at 15th Street
#2 Shark Week – Great White shark spotted by helicopter off of Carlsbad beach; Reunion Island – French allow for shark culling after a smattering of shark attacks;
#3 SIMA Watermans Weekend honored Sean Collins, Jean Michel Cousteau, and Shane Dorian last night at gala fundraiser that raised money for 20 environmental causes.
#4 US Open last week exciting stuff! Julian Wilson – only ten new guys can make the tour next year…
#5 Surfline, official forecasters for the Billabong Pro Tahiti, are calling for a low rise in small/short-period SE swell from Sunday, 12th, into next Tuesday, as small WSW swell joins in for waist-shoulder high waves, some plus sets. Similar size SSW swell shows mid week while the WSW drops out. Better, longer-period SW swell and possible WSW swell from current Tasman Sea storm scheduled to move in Thursday, 16th, and peak Friday with chest-head high surf and inconsistent overhead sets. Those waves fade over the following weekend. More onshore flow is expected for the south facing breaks into the start of next week, then SE tending ESE winds on tap for the second half of the week.
AIR TAHITI NUI VONZIPPER TRIALISTS (The winner plus highest placed Tahitian earn Billabong Pro, main event wildcards. If the winner is Tahitian, then 2nd place is awarded the wildcard)
INTERNATIONAL INVITEES – updated list
Jamie O'Brien (Sunset Beach, Oahu, HAW)
Anthony Walsh (Lennox Head, NSW, AUS)
Bruce Irons (Kauai, HAW)
Kamalei Alexander (Kauai, HAW)
Bruno Santos (BRA)
Aritz Aranburu (Zarautz, EUK)
Kalani Chapman (Oahu, HAW)
Manoa Drollet (Papara, Tahiti, PFY)
Ricardo Dos Santos (BRA)
Dean Bowen (Gerroa, NSW, AUS)
Wade Goodall (Sunshine Coast, Qld, AUS)
Ben Sanchez (Hossegor, FRA)
Matt Bromley (Capetown, ZAF)
Alvaro Malpatida (Lima, PER)
Shinpae Horiguchi (Wakayama, JPN)
Dylan Longbottom (Sth Coast, NSW, AUS)
PLUS 16 TAHITIAN LOCALS – (as determined by the local 'trials for the trials' event).
The Air Tahiti Nui Vonzipper Trials is made possible with the support of the Government of French Polynesia, Sports Minister, Institut of Sports, Sports Department, Tahiti Tourism, Air Tahiti Nui, Coca Cola, OPT, Mana, Hyundai, Hertz, Polynesie 1ère, La Depeche, NRJ, City Hall of Taiarapu ouest and the City Hall of Teahupo'o,
Leave a Comment
:andy warhol, baldy, catch baldy, jeff baldwin, scott bass surfer, sean collins, shane dorian, shark week, SIMA, surfboards, surfer, the boardroom international surfboard show, watermans weekend
more...