Tag: SIMA
by admin on Aug.12, 2012, under This Weeks Show
Surfing News – August 12, 2012: Tim Bessell- Master Shaper from La Jolla, California joins us in-studio.
SEGMENT 1 SPONSOR —
–
HONORING MARK RICHARDS IN THE ICONS OF FOAM SHAPING TRIBUTE PRESENTED BY US BLANKS
October 6 & 7, 2012
Del Mar Fairgrounds Exhibition Hall
Open to the Public
Food, Music, Fun
Exhibits, Shaping, Events, Art
$10; U12 FREE
Free sub to SURFER Magazine for each paid entrant
Surfboard Demo morning at 15th Street in Del Mar Sunday Oct 7
EVENTS AND EXHIBITS INCLUDE:
QNA SHAPING BAY
BEST OF SHOW
VINTAGE SWAP SHOWDOWN
CINEMA GROTTO SHORT FILMS FEST
SURFAID BOARD ART BENEFIT
ARTIZEN LIVE PERFORMANCE ART
ECO-SWIRL LAMINATING
GUN CLUB LOUNGE
MUSIC BY SURFERS FOR SURFERS
Autograph & Book Signings
Surf Report:
Emails, Tweets, Shout Outs:
"I disagree with the listener email last week from Jay (in Carlsbad), that basically called out the surfing and conditions at the US Open. They've had really bad days at PipeMasters, when they didn't even run the contest at Pipe! Sometimes Mother Ocean does not provide, but more often than not she does. Plus, the final day's action was red hot and very exciting." - Lisa H. Fan of HB Pier and the US Open from Torrance. California.
SEGMENT 2: Segment Sponsor Quiksilver Waterman Collection is presenting next years' Surfing Heritage Vintage Surf Auction presented by Quiksilver Waterman Collection which takes place May 11, 2013 in the brand new state-of-the-art building at the OC Fairgrounds called The HANGAR. Quiksilver Waterman Collection and their brand ambassadors on twitter Mark Healey @healeysurf , Shayne McIntyre @ShayneMcIntyre, Jamie Mitchell, Peter Mel @peter_mel, Mel Pu'u: Robby Naish

Lacanau Summer from loyal listener Renz in Europe
Tim Bessell – re-knowned local La Jolla shaper Bessell surfboards
Tim it might be good to go back a bit, Jeff and I grew up in San Diego, so we know all about you...but many of our international listeners don't know your connection to San Diego so let's start there..
Where were you born, raised?
What did your parents do, what was family life like?
When did you become enamored with this thing called surfing?
Do you remember your first surfboard?
As a young surfer who were your influences?
Shaping bug? How did you get involved with shaping surfboards?
What were your early experiences with the planer and foam? Garage stuff?
Sunset Surfboards days...
Regarding early shaping life, who really went out of their way to show you the ropes, or give you tips?
Who did you see go through those doors at Ed Wright's Sunset Surfboards, they had a big influence?
Al Merrick, Ken Bradshaw, Willis Brothers, Ned McMahon, Bill Shrosbree,
In the early 80s you really had a stable of red hot local La Jolla kids including Peter King.
The Artist Series -- tell us how this concept came about?
How did the Clark foam closure in 2005 effect on your business?
I'm of the opinion that cheap entry level, price point boards are good for the local surfboard industry, do you agree with this?
Can a surfer walk into the Bessell shop, and... like going into a Mercedes dealer, choose from a either 300 series, a 500 series or a bells and whistles 700 series?
The Sustainable surfboard... when will an eps, linseed oil resin, bamboo weave be the only board available to surfers?
...it seems we've been hearing about it for years, a day when all boards will be environ-senstive, that they won't eventually find their way into the landfill. Or, if they do, they bio-grade.
Yet, the PU surfboard still dominates the market place. Is it the paying customers that are driving these market conditions or is it the surfboard manufacturers, the industry, that is too stubborn or lazy to change?
–
HONORING MARK RICHARDS IN THE ICONS OF FOAM SHAPING TRIBUTE PRESENTED BY US BLANKS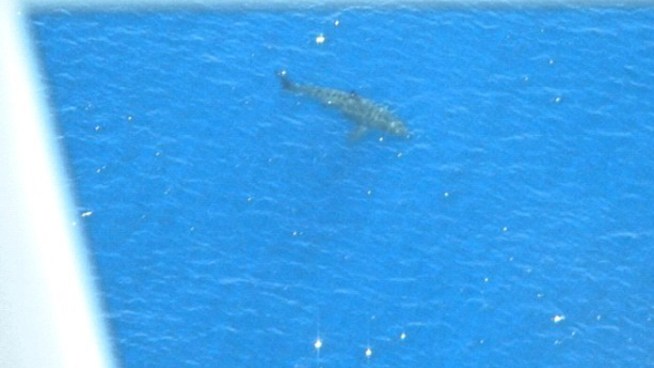 TOP 5 Stories:
#1 Catch Baldy – demo morning at 15th Street
#2 Shark Week – Great White shark spotted by helicopter off of Carlsbad beach; Reunion Island – French allow for shark culling after a smattering of shark attacks;
#3 SIMA Watermans Weekend honored Sean Collins, Jean Michel Cousteau, and Shane Dorian last night at gala fundraiser that raised money for 20 environmental causes.
#4 US Open last week exciting stuff! Julian Wilson – only ten new guys can make the tour next year…
#5 Surfline, official forecasters for the Billabong Pro Tahiti, are calling for a low rise in small/short-period SE swell from Sunday, 12th, into next Tuesday, as small WSW swell joins in for waist-shoulder high waves, some plus sets. Similar size SSW swell shows mid week while the WSW drops out. Better, longer-period SW swell and possible WSW swell from current Tasman Sea storm scheduled to move in Thursday, 16th, and peak Friday with chest-head high surf and inconsistent overhead sets. Those waves fade over the following weekend. More onshore flow is expected for the south facing breaks into the start of next week, then SE tending ESE winds on tap for the second half of the week.
AIR TAHITI NUI VONZIPPER TRIALISTS (The winner plus highest placed Tahitian earn Billabong Pro, main event wildcards. If the winner is Tahitian, then 2nd place is awarded the wildcard)
INTERNATIONAL INVITEES – updated list
Jamie O'Brien (Sunset Beach, Oahu, HAW)
Anthony Walsh (Lennox Head, NSW, AUS)
Bruce Irons (Kauai, HAW)
Kamalei Alexander (Kauai, HAW)
Bruno Santos (BRA)
Aritz Aranburu (Zarautz, EUK)
Kalani Chapman (Oahu, HAW)
Manoa Drollet (Papara, Tahiti, PFY)
Ricardo Dos Santos (BRA)
Dean Bowen (Gerroa, NSW, AUS)
Wade Goodall (Sunshine Coast, Qld, AUS)
Ben Sanchez (Hossegor, FRA)
Matt Bromley (Capetown, ZAF)
Alvaro Malpatida (Lima, PER)
Shinpae Horiguchi (Wakayama, JPN)
Dylan Longbottom (Sth Coast, NSW, AUS)
PLUS 16 TAHITIAN LOCALS – (as determined by the local 'trials for the trials' event).
The Air Tahiti Nui Vonzipper Trials is made possible with the support of the Government of French Polynesia, Sports Minister, Institut of Sports, Sports Department, Tahiti Tourism, Air Tahiti Nui, Coca Cola, OPT, Mana, Hyundai, Hertz, Polynesie 1ère, La Depeche, NRJ, City Hall of Taiarapu ouest and the City Hall of Teahupo'o,
Leave a Comment
:andy warhol, baldy, catch baldy, jeff baldwin, scott bass surfer, sean collins, shane dorian, shark week, SIMA, surfboards, surfer, the boardroom international surfboard show, watermans weekend
more...
by admin on Nov.30, 2010, under This Weeks Show

This piece was originally published in The Australian on November 29, 2010. You can reach the author of the article here: pawlef@theaustralian.com.au ; Our take on Melekian's OUTSIDE mag article
When Californian surf journalist Brad Melekian was commissioned to write an obituary of three-time world champion Andy Irons, who died this month, he was surprised by the number of people who were keen to discuss the previously unreported troubled side of Irons' short but brilliant life.
"Every single person I talked to, even those who were unwilling to talk on the record, said there was more to it (than a mere obituary)," Melekian said. "I couldn't ignore that."
The eventual 4400-word story detailed two alarming drug and alcohol-related incidents: one when Irons almost died during a bender in Indonesia in 1999, and another when he became almost uncontrollably violent towards a friend in Fiji this year.
Irons's volatility and self-destructiveness were not news to the "insular" world of pro surfing, Melekian wrote. "But they were kept under wraps by an unspoken but understood code of public silence."
That code is a consequence of the surf-publishing business model. Surf journalists do not feel inclined to ask difficult questions because the sponsors of the stars they write about also provide most of the advertising revenue for their publications.
Melekian formerly edited Surfer magazine in California, but his investigation was commissioned and published by Outside, a general sports magazine.
"It's not explicit, but it's completely understood (in surf mags) that if you push too hard, there's a fear that a company will pull its ads out," Melekian told me.
Such stonewalling extends to the companies themselves. In the immediate aftermath of Irons's death, his sponsor, Billabong, published a press release saying Irons had "reportedly been battling with dengue fever".
This may or may not be true. Irons had indeed withdrawn from a surf contest in Puerto Rico through illness, and was on his way home when he died. But Melekian's story reported that Irons had also been out partying with friends the night before he died. Elsewhere, it was reported that prescription-drug bottles were found in the room in which Irons died. A toxicology report is due next month.
Repeated attempts to discuss the issue with Billabong elicited this quote from a spokesman: "Andy was a true champion and, out of respect for his memory and the whole Irons family, we have no intention of participating in any speculation about him."
Brodie Carr, the CEO of the Association of Surfing Professionals, which administers the sport, was at lunch in France when I called on Friday, and, despite two subsequent calls, didn't call back.
Irons's former manager, Blair Marlin, isn't talking either. "I'm not in a place to comment on (Melekian's story)," Marlin told me. "He wrote what he wanted to write. I've heard both sides of the story, of people who are upset by it and people who thought it was a good piece."
Marlin is an active manager. I compiled a profile of Irons for a surfing magazine in 2008, when Irons was behaving especially erratic, and Marlin refused access to the star. He also insisted on vetting interviews with people close to Irons before they were published. Asked yesterday if the media had been overly constrained to publish the complexities of Irons's life, Marlin said: "I don't even care to discuss this right now. The Outside magazine piece came out before the toxicology report. Until it does, I can't talk about it."
Plenty of surf fans can, though. Melekian was "shocked" by the amount of positive feedback about the story from surfers and people in the industry.
"It was really well received," he said. "People are feeling relieved that it finally came out."
The narcotic tendencies of surfers is nothing new. The sport attracts athletes who are inclined to pursue extreme experiences, and those at the top are not always exceptions to this.
But the companies that traditionally run the sport are now mostly publicly listed, and there is more at stake than just the reputation of a few people in a fringe subculture.
Also, surfing is attracting investment from companies outside the traditional industry (Red Bull, Nike and Target have all become major sponsors), which may finally break the cozy relationship between the magazines and the industry.
"The sport is being infused with more money," Melekian says. "That has to change everything. The athletes are being treated like real athletes, and that changes it from a small group . . . who are doing some oddball thing down the beach."
As an anonymous contributor poignantly noted in an online forum attached to Melekian's story: "I've partied with Andy before. We definitely weren't close, but I'd been around him. Maybe I couldn't have done anything for him on my own, but the surfing world as a whole and its party scene let one its brightest stars go. In a way, we're all a little responsible."

This piece was originally published in The Australian on November 29, 2010. You can reach the author of the article here: pawlef@theaustralian.com.au
Leave a Comment
:andy irons, ASP, Billabong, brad melekian, death, fred pawle, melekian, SIMA, surf industry, surf industry insight, surfing industry
more...